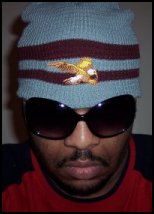 Kevin F. Pickett
Lead Writer and Creator of Screaming Monkeys. Writing has been a passion of his for a long time. Filmmaking is another passion with independent credits below:
Waste and Void - Director Kenneth Du, Assistant Camera/Gaffer Kevin Pickett., Starring Alana Servignese - March 2004
Quagmire - Director Omar Robau, Assistant Director Kevin Pickett., Director of Photography Hesh Goldberg, Starring Raymond Turturro - Summer/Fall 2004.
He recently started writing comic books using his love of cinema and developing amazing stories. He has completed one comic series Chester The Crafty Pervert with illustrater Tedd Hazard. Other titles are on the way and the storytelling never stops.
Here's a sample script:
"MY NI**A" -The Adventures Of Jules Winfield , a short story about the fate of Jules Winfield after the events in Pulp Fiction.
---

RNA BRAND
Red Nation Apparel and RNA Brand are a Graphic and Merchandise Company specializing in Pop Art, Native American Themes and Various Pop Culture Satire. They are curently working with Screaming Monkeys on a few titles. Look for their work on Tennesee Gambino.
---
LUCAS ESPELOSIN
rukasu-the-goblin.deviantart.com
Lucas is also known as Rukasu. He's a freelance artist specializing in Manga. He has done all ink and color work on Ring Of Domination and also some concept work on the upcoming series Degenerates. Some of his influences are the Street Fighter game series and many other old school NES games.
---
MIKE KIM
He's a freelance illustrator from Corona CA, and he likes creating concept art and illustrating comics. His biggest influence is Sergio Leone westerns. Mike did some concept work for Artems Strange.
---
TEDD HAZARD
The original artist of Chester The Crafty Pervert and a good friend of mine. He's currently the lead vocalist and lead guitarist of Teddy And The Hazards and The 40oz Crew.
---